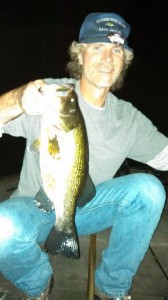 Curt Snow grew up in the Northwest corner of Massachusetts, living there until he was 11 years old. During those younger years, he learned how to catch fish from the streams and rivers of his hometown.
The mighty Deerfield River ran right through Charlemont, the town he lived in, giving him easy access to some of the best trout fishing in the state! Curt also fished in a lot of smaller streams where native brook trout and stocked rainbow trout made their homes.
Spending time in Maine and then in Southern Rhode Island during his teen years, Curt fished for more trout and then tried his hand at some saltwater fishing, for whatever would bite.
Moving into his early adult years, fishing got left behind for a short time, but not for long!
In 1986, while working at a local factory, Curt had the opportunity to connect with some co-workers who fished for bass… a species that Curt had never had the opportunity to catch. But that was about to change!
After buying a cheap rod and reel and spooling it up with some 10 lb. Test line, Curt went bass fishing for the first time, and his life was never the same!
Today, almost 30 years after catching his first bass, Curt fishes in tournaments in Rhode Island and nearby Connecticut and runs a successful guide service (Night Owl Charters) in both states, teaching people how to catch big largemouth and smallmouth bass on local lakes and rivers.
Curt is also the founder of Southern RI Bass Anglers (SRIBA), a local bass fishing club that he began back in 1993. He is currently the president and tournament director of SRIBA. Since 1993, Curt has won dozens of club tournaments and taken several titles, such as Angler of The Year and Big Bass of The Year in the club.
Curt has been married for over 30 years and has two daughters, both of whom grew up catching bass, and whatever else would bite. He is now passing his love of fishing on to his grandson 🙂