2013 was by far my best year yet working as a professional guide! My bookings increased and I got to spend time on the water with some truly enjoyable people.
In addition to meeting new people and making some new friends, I also got to see more clients put big fish in the boat, due in part to my HumminBird fishfinders. We had many, many fish between 4 & 6 lbs. caught this year.
Here are some highlights from some of those trips, in no particular order.
During the month of June, I had the pleasure of meeting a retired couple from North Carolina. Dave and Gretchen got in touch with me well in advance of their trip to RI to see if I would be available to help them catch some bass during their stay in Warwick.
Of course I was available and would love to take them out and put them on some fish 🙂
We picked a date, a time and the location and they said they would like to meet me for lunch before we hit the water. So on the scheduled day and time, I met them, with my boat in tow, and we enjoyed a nice lunch together, getting acquainted and learning a little about each other.
When lunch was finished, we headed to the lake and set about the task at hand; catching bass!
Before long, Gretchen had hooked into the first bass of the day. And so it was on! For the next several hours we boated more bass than we could keep track of.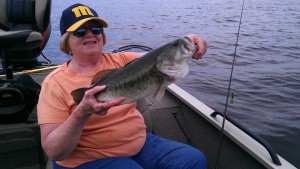 Gretchen ended up catching a very nice bass of about 4 ¼ lbs. The fish gave her a heck of a fight and I thought sure it might get off, but it stayed hooked up and I got the net under it and hosted it aboard.
Gretchen was grinning from ear to ear, as you can see in the pic!
When everything was said and done, we had all caught some very nice bass and I had two very satisfied clients on my hands. The best part is that this was just the beginning.
Over the course of the summer I had the pleasure of guiding guiding many other clients, helping them catch big bass.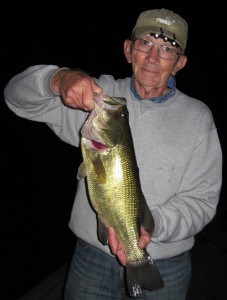 On one particular night trip trip, one client caught 2 fish between four and a half and 5 pounds. This happened on a night when the fishing was very slow. He was extremely excited, to say the least. The key to him catching those two big fish was patience, persistence, and the fact that he listened to what I taught him about catching fish when the bite was tough.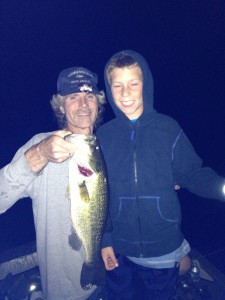 During another evening trip, I had a father and son, Avi and Max, who are repeat clients. The fishing that night was slow at first, but before the night was over they had landed a very big bass. The dad hooked the fish and then handed the rod to his son.
Max did a great job of bringing the fish to the boat so I could net it for him. He was smiling from ear to ear! And the dad wasn't too unhappy either 🙂 That fish ended up weighing about 4 ½ lbs.!
I also had another father and son trip. Hal, from Washington state, made the trek to visit his son, Nick, in RI. The two of them met me at the lake and we headed out before it got dark.
We fished and I spent some time teaching them about the various baits and techniques used to catch bass at twilight and after dark. While I taught them and we fished, I purposely moved them into an area where the bigger bass should be moving in to feed right at dusk.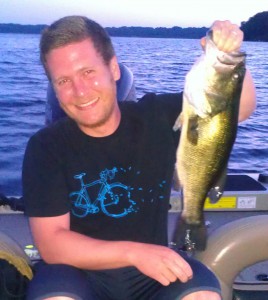 Before too long, Nick had hooked up and his rod was doubled over, with a big bass stripping line from his rod! Nick played the fish well and I got net under it and scooped it aboard.
Let's just say that Nick was a very happy camper! The fish weighed around 4 ¼ lbs. I got a quick picture or two and the fish was released back into the lake to swim and fight again.
My final trip of the year was in October, with Ron and Judy, from St. Louis, Missouri. Ron and Judy are retired and they spend time traveling across the country, with the goal of each of them catching a fish in each of the 50 states.
They booked 2 trips with me; one in RI and one in CT. As I mentioned, it was October, so the weather was getting a bit unpredictable. But we put our noses to the grindstone, and when Thursday and Friday were done, they had both caught bass, perch and pickerel, reaching their goal of catching fish on both of the states. Mission accomplished!
It was a great year and I thoroughly enjoyed every trip, including some that weren't mentioned here. Taking people out on the water and teaching them how to catch fish is truly enjoyable and I consider it a huge privilege and a blessing.
I'm Looking forward to the 2014 Season.
Until then, Fish On!
Curt