As a pro guide and tournament angler, I've spent some serious money over the years buying many different types and brands of fishing tackle, including soft plastic lures. It's just part of finding what works best and then getting stocked up on those items.
Fishing tackle can range from small wire snaps to rods, reels and a host of different kinds of lures. Even within the lure category there are dozens of different subcategories of baits to choose from for a varying myriad of conditions!
Today I want to talk about just two of those subcategories; lure parts and soft plastic lures. Between these two subcategories I probably cover at least 50% of my lure needs in a given season. I fish a ton of soft plastics and I make my own spinnerbaits, jigs and buzzbaits.
Let's talk about soft plastic lures
I fish soft plastic lures from the beginning of the season, in March, all the way to the end, when I put my boat away for the winter, typically in late November or early December. Early in the season I usually start by throwing smaller baits, such as finesse worms or crawdad imitators. Bass normally prefer more compact baits when the water is cold. This isn't set in stone, but it's a good rule of thumb to follow.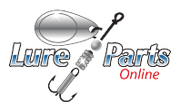 So for me, one of the absolute best baits I've found in the Crawdad imitator category is the Salty B-Bug, from Lure Parts Online. You can check them out here: Salty B-Bug
Over the past few years I've put some serious fish in the boat with these baits, as well as cashing a few decent tournament paychecks using them too 😉
I prefer the 4 inch version of the bait, but I use the 3 inch version for guide clients when they're fishing with spinning gear. Last year I had a client land a bass well over 4 lbs. on the 3 inch version of the bait. The best part of that story is that she was a stroke victim who had recovered enough to get back on the water and catch fish. And catch them she did!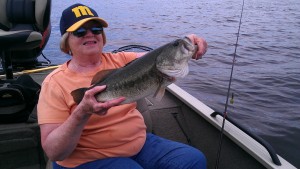 Check out this fish that she caught about 2 hours into our trip in 2013.
Due to her stroke, she can't cast well, but I would cast for her and she would let the bait drag along the bottom. When she felt a bit, she would set the hook and fight the fish.
This particular fish gave her a heck of a tussle and I actually worried that she might lose it, but she was a trooper and won the fight!
Rigging The Salty B-Bug
OK.. so back to the baits themselves. As I said, I prefer to fish the 4 inch version of this bait. I will usually rig it on a baitcasting rod & reel that's spooled with 17 lb. test fluorocarbon line. I rig the bait on a 3/0 wide gap hook and add a 1/8 oz. bullet weight. That particular size weight works well in all but the windiest conditions.
The Best Way to Work This Bait
Working this bait is pretty easy. In fact, the more you do with it, the less bites you'll typically get, so casting it out and letting it sit for 5-10 seconds at a time can be a pretty deadly presentation. In between pauses, I just lift the rod tip up to about 12 O'clock and then drop it back down to about 2 O'clock, letting the bait fall on a semi-slack line. What this does is cause the bait to rise up off the bottom and then fall slowly back down.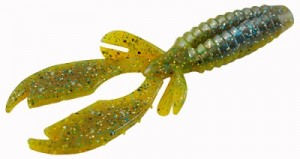 Doing this, you'll find that some bites will happen while you're dead-sticking the bait, letting it sit there on the bottom. One of the cool features of this bait is that the claws float upward when you let it rest on the bottom, causing it to look like it's sitting there in the defensive position. The slightest little current underwater will cause those claws to move, enticing bass to bite.
In my experience, though, more than 80% of the bites come as the bait falls back to the bottom, after you've lifted it up and are letting it fall. Because of this, it's really important to watch the line as the bait is falling, making it easier to detect any subtle bites you might get.
Most times you won't feel the actual bite. It'll be detected more as a slight "tick" that you'll see in the line as you watch it. The best spot to watch the line is right where it enters the water. It can be tough to learn how to do at first, but practice makes perfect, so don't give up if you find it hard at first.
Any time you see that tick or feel anything unusual on the other end, be sure to set the hook hard right away. Waiting too long will usually result in the fish starting to swallow the bait and ending up hooked in the throat, which isn't good for the fish for obvious reasons.
By the way. My favorite color in the Salty B-Bug? Hands down, Watermelon w/Red Flake. This color has caught fish for me in every body of water I've tried it in. It doesn't seem to matter if the water is clear, lightly stained or very stained. It just works.
A Little About Lure Parts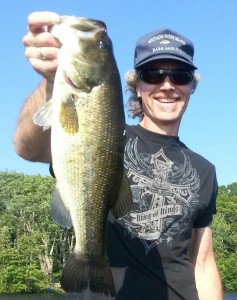 I'll probably end up writing another blog post at some point in the future, talking specifically about what lure parts and components I like to buy, and why, but for now let me touch base on this topic very briefly.
As I mentioned in the onset of this article, I make my own spinnerbaits, buzzbaits and jigs. Doing this requires specific components for each different type of bait. Spinnerbaits require blades, clevises, swivels, skirts and the actual spinnerbait head.
Buzzbaits require less parts. I need a buzzbait head, a blade, a small hollow metal bead, a rivet and a skirt.
Jigs are even more simple, requiring only the jig head itself and a skirt. I can also choose to add rattles if I want to.
I have a few specific color preferences for each style of bait, which I'll cover later on in another blog post. But when I do need any of these components, I always buy them from LurePartsOnline.com.
I've done business with other lure parts companies over the years, but these guys have the biggest selection of the highest quality components, at great prices. And if you order before 1 PM Central time, your order ships out that same day. You can't ask for much more than that.
So why do I mention all of this? Because most bass fishermen don't think about going to a place like Lure Parts Online to get their tackle. Most time, they automatically think of Bass Pro Shops, Cabela's or large chain retailers, like Dick's Sporting Goods or even Wal-Mart.
But you can save big money by buying your stuff in bulk, instead of paying premium prices for fancy packaging and a nice store to shop in. Put your money to better use and get a bigger bang for your buck by buying bulk. And even if you don't want huge quantities, check them out anyway. You can still buy smaller packages of baits and lure parts and beat the higher prices of other retailers.
I hope you'll check out Lure Parts Online. You'll be glad you did.
For now,
Fish On!